Program
Please note the program was subject to changes.
Jodie Sizer
Chair, Australian Institute of Aboriginal and Torres Strait Islander Studies
Ms Jodie Sizer is a Djap Wurrung/Gunditjmara woman and one of Australia's foremost leaders.
In July 2021, Jodie was appointed the inaugural CEO of the Great Ocean Road Coast and Parks Authority to deliver better protection and management of the iconic coast and parks of Victoria's Great Ocean Road. She is the co-founder and co-CEO of Australia's leading Indigenous consulting firm, PwC Indigenous Consulting 
 
Jodie is: a qualified as a Certified Practising Accountant; Chair of the Australian Institute of Aboriginal Torres Strait Islander Studies; a director of the Ebony Institute; and Vice-President of prominent Australian sporting organisation the Collingwood Football Club, leading the transformational change process to address systemic racism, commissioning the Do Better report and its implementation.
 
Jodie has been listed in the Who's Who of Australian Women and inducted to the Victorian Honour Roll of Women. She received the Prime Minister's Centenary Medal and was listed as one of the Australian Financial Review 100 Women of Influence.
Brendan Moore
SWALSC Chair
Brendan Moore is a strong, passionate, and proud leader for his community. He is the Chair of the South West Aboriginal Land and Sea Council (SWALSC) and is of Whadjuk, Yued and Wardandi Noongar heritage.
Brendan has completed undergraduate and postgraduate degrees and has nearly 20 years of experience in staff and high-level positions at SWALSC. Brendan is a member of the Rottnest (Wadjemup) Aboriginal Reference Group, and he works part-time at the City of Fremantle.
 
Justin Mohamed
Ambassador for First Nations People 
Department of Foreign Affairs and Trade
Mr Justin Mohamed commenced as Australia's inaugural Ambassador for First Nations People on 4 April 2023. He is a Gooreng Gooreng man from Bundaberg in Queensland. 
Mr Mohamed has a strong connection to community having worked for decades in Aboriginal and Torres Strait Islander organisations, as well as in the government and corporate sectors, on issues spanning health, social justice and reconciliation. 
Mr Mohamed was most recently Deputy Secretary of Aboriginal Justice in the Victorian Government. He has also held the positions of Chief Executive Officer for Reconciliation Australia and Chairperson of the National Aboriginal Community Controlled Health Organisation, and he has represented Indigenous organisations internationally including at the UN Permanent Forum on Indigenous Issues. 
Ned David – Mabo Lecture
Chair, Gur A Baradharaw Kod (GBK, Sea and Land Council, Torres Strait)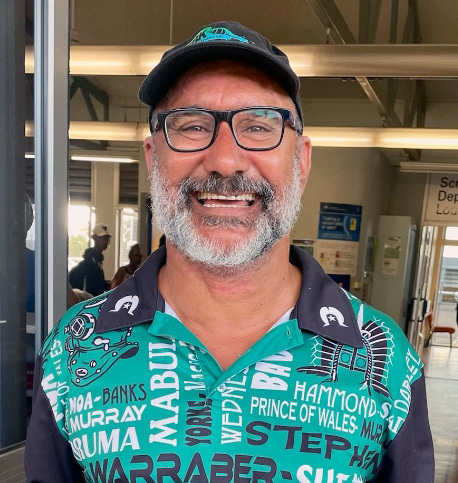 Ned David is a Kulkalaig – a traditional owner from the Central Islands of the Torres Strait. Ned's homeland, Magan, includes Tudu (Warrior Island), Iama (Yam Island) Gebarr (Gabba Island) Mucar (Cap Island), Sassie and Zagai, the surrounding reefs of Wapa (Warrior reef) and Thidu (Dungeness reef). Ned has family connections to the Komet tribe of Mer (Murray Island) through his mother and to the Doeybaw clan of Saibai Island through his father.
Ned currently holds several leadership positions. These roles include Chair, GBK; Chair, Magani Lagaugal RNTBC; Malu Lamar RNTBC and Chair, Torres Strait Islanders' Regional Education Council (TSIREC). Ned's career background includes working closely with all levels of government, and the private sector. Ned is passionate about high quality education and the rights of First Nations peoples to govern their own affairs.
 
Dr Richard Walley, OAM
A Nyoongar man who works tirelessly for the Indigenous cause. Becoming involved with Aboriginal politics at an early age, having active involvement in the formation or operations of the Aboriginal Housing Board, Aboriginal Medical Service, Legal Service, and the New Era Aboriginal Fellowship.
Richard has been awarded an Order of Australia Medal (1993), two honorary doctorates from Murdoch University (2001) and The University of Western Australia (2006), for his contribution to the promotion of Nyoongar Culture and the Arts. In 2010, receiving the 'Citizen of the Year' Award in the Indigenous leadership category of the Celebrate WA Awards. In 2021 a recipient of the WA Senior Australian of the Year Award.
In 1978 he founded the Middar Aboriginal Theatre with three friends, including Ernie Dingo.
Richard works in his family-owned business Aboriginal Productions and Promotions.
 
Jamie Lowe
CEO National Native Title Council
Jamie Lowe, a proud Gundjitmara Djabwurrung man, first joined the National Native Title Council (NNTC) as Chair in 2017. Two year later, he was appointed CEO, charged with supporting First Nation's people's right to true self-determination, advocating for their right to speak for and manage their own Country; to govern their own communities; to participate fully in decision making and to self-determine their own social and economic development.
As a key influencer, Jamie firmly believes that creating economic independence and maintaining and growing cultural identity are vital in creating a self-determining nation of First Nations peoples. 
Professor Gaye Sculthorpe
Professor, Cultural Heritage and Museum Studies, Deakin University, Melbourne 
Gaye is a Palawa woman whose Aboriginal ancestors are from the Cape Portland region of northeast Tasmania. Prior to taking up her current position in August 2022, she worked for almost 10 years at the British Museum, as Curator and Section Head, Oceania in the Department of Africa, Oceania and the Americas. Prior to 2013 she worked as a Member of the National Native Title Tribunal and held various curatorial positions at Museums Victoria, Melbourne.
With qualifications in history, anthropology and museum studies, her recent work has focused on researching Aboriginal and Torres Strait Islander collections in museums in the United Kingdom and Ireland.  
Zac Roberts
Associate Lecturer and PhD candidate in the Department of Indigenous Studies at Macquarie University
Zac Roberts is an Walbunja Yuin scholar from the South Coast of New South Wales. His research interests centre on Indigenous histories, with a particular interest in interrogating the unspoken space of Indigenous narratives within the broader national history of Australia. Zac is currently an Associate Lecturer and PhD candidate in the Department of Indigenous Studies at Macquarie University, where he is researching the relationship between Indigenous and Jewish communities in Australia since 1788 through both oral history and archival materials. He has previously worked in education programs in the museum sector and was the 2021 recipient of the John Mulvaney Fellowship from the Australian Academy of the Humanities. 
Launching the new National Indigenous Land and Sea Strategy Panel: 
Joe Morrison, Group CEO
Gail Reynolds-Adamson, Board Director
Ian Hamm, Chairperson
At the 2022 AIATSIS Summit, the Indigenous Land and Sea Corporation (ILSC) launched its largest ever national engagement to listen to the aspirations and priorities for Country of First Nations people. This was a fundamental part of resetting the ILSC's relationship with Indigenous people and organisations, rebuilding trust, and moving towards opportunity in partnerships. 
A major outcome of the engagement is a new National Indigenous Land and Sea Strategy (NILSS), which sets the direction for the ILSC over the next 5 years. It is a direct response to what was shared and will reform how the ILSC does business to better meet the needs of the Indigenous people it serves.
This session will share an overview of the new NILSS, what First Nations people can expect from the ILSC as a partner, and reflect on the importance of genuine partnership and embracing Indigenous ways of working to drive stronger outcomes.  
Joe Morrison
Group Chief Executive Officer
Joe Morrison has Dagoman and Torres Strait Islander heritage and has over 30 years' experience working with Indigenous people in northern Australia, nationally and more recently globally. He has extensive advocacy, policy, research and practical experience across Indigenous communities, non-profit and 
government sectors.
He has a BA in Land Management from the University of Sydney and an Honorary Doctorate from the University of New South Wales.
He is currently the Group Chief Executive Officer of the Indigenous Land and Sea Corporation (ILSC), a corporate Commonwealth entity. Prior to this he was the Managing Director of Six Seasons consulting, the Chief Executive Officer of the Northern Land Council and the founding CEO of the North Australian Indigenous Land and Sea Management Alliance (NAILSMA). He is currently a Director of the Reef and Rainforest Research Centre, International Savanna Fire Management Initiative, National Centre for Indigenous Excellence, Primary Partners Pty Ltd, Voyages Indigenous Tourism Australia and a member of the AFL Indigenous Advisory Council.
Gail Reynolds-Adamson
Board Director
Gail Reynolds-Adamson is a descendant from the Noongar people of Western Australia on the eastern border of the Noongar nation, the Nudju people from the Norseman/Balladonia area, and the Mirrnning people, who stretch along the coast between Western Australia and South Australia. 
Ms Reynolds-Adamson operates a specialist consultancy firm working with, and for, Indigenous Australians and has significant experience working with industry and organisations to design and promote strategies for social, economic, and organisational development change. Gail was previously the National Manager of the Aboriginal and Torres Strait Islander unit for Telstra and National Manager Indigenous Affairs for Newmont Mining.
Gail is currently the Chair Esperance Tjaltjraak Native Title Aboriginal Corporation,  South-East Aboriginal Health Service; Director/Owner – Blue Waters Tourism Pty Ltd; TA Esp Eco Discovery Tours; Kaata Tdje Pty Ltd; Indigenous Consulting Group Pty Ltd; and a Director of Horizon Power.  Gail is also a member of Aboriginal Advisory Council WA and Marine Parks.
Ian Hamm
Chairperson
Mr Ian Hamm is a Yorta Yorta man from Shepparton in central Victoria.
Ian has overseen major policy and strategic reforms for government and community organisations, including his work with the Australian Government (Office of Aboriginal and Torres Strait Islander Health) and the Victorian Government (Department of Justice, Department of Planning and Community Development, and the Department of Economic Development, Jobs, Transport and Resources).
He works with people from a vast array of backgrounds, managing complex and sensitive relationships to achieve mutually beneficial outcomes. Ian is now devoting himself to improving the representation of Aboriginal people on boards and other high-level governance, through strategic action, advocacy and mentoring.
Ian is Chairperson of the First Nations Foundation and Koori Heritage Trust, and President of the Community Broadcasting Foundation. He is also a Board Director on The Healing Foundation, Yarra Valley Water, Inclusive Australia, Australian Red Cross, the National Trust of Australia (Victoria) and Aboriginal Housing Victoria. Mr Hamm is also a sessional panel member on the Australian Financial Complaints Authority and Planning Panels Victoria.